2004
INTERNATIONAL HOUSING
COMPETITION IN CATALONIA
400.000 Habitages | Dwellings
Sagrera Link
Barcelona. Spain
Area: 182.000 m2
Organizer: Col.legi d'Arquitectes a Catalonia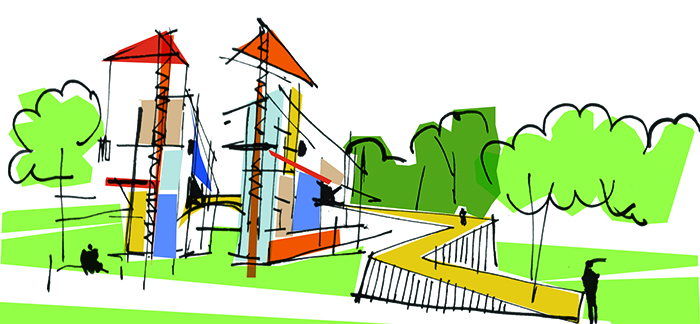 park and housing – sketch
How can the problem of increase in demand of dwellings in the railway axis Sagrera-Sant Andreu be solved, considering at the same time the growth, density and sustainability variables?
Sagrera-Sant Andreu is a border between two big urban areas of the industrial Barcelona of the 20th century: Sant Andreu and San Martí. The General Metropolitan Plan proposes to get a system of green areas, a railway and a public transport station, and the construction of a new residential area.
Keeping in mind the reading of the territory and the needs presented in the General Metropolitan Plan, we chose a proposal of great formal intensity that solves the problem with three elements:
A central park, with a public transport hub, which absorbs the border between Sagrera and Sant Andreu. This park is located in the middle of two parallel streets with opposite directions connecting Trinitat and Glóries.
Two areas of high density urban buildings which embrace the park's extremes and articulate its existing environment.
Publication: Quaderns d'arquitectura i urbanisme. 400.000 Habitages Dwellings. Col.legi D'Arquitectes a Catalonia