2002
URBAN IDEAS FOR SANTO DOMINGO 2002
Restructuring Institutional Area
Ensanche La Fe. Articulations.
Santo Domingo. Dominican Republic
Surface: 67 ha
Organizer: National District Government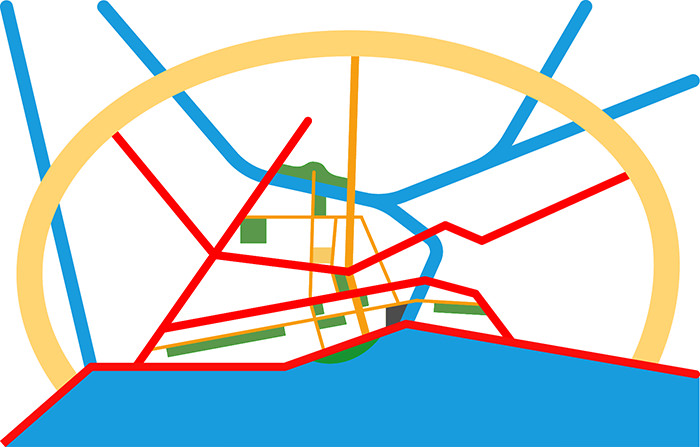 The case of Ensanche La Fe presents an interruption of the urban continuity caused by the old hippodrome area. Over this area and throughout the recent history, a series of non-articulated pieces of equipment were implanted. Thus, the project for the urban articulation begins with a check-up of what exists in order to restructure it: an institutional zone with a lot of under-used land, the big baseball and boxing stadiums surrounded by parking lots, a hospital installation with its own logic, a mixture of densified local and uneven planned housing, in short, a disassembly of urban fragments. Therefore, a new general organization able to regulate the pre-existences and to receive new programs is proposed. This organization is achieved by turning the shape of the big urban void from a rectangle into an oval, which is at the same time an echo of the old hippodrome and defines and connects a series of new elements:
The formalization of a big central park for the area dissolves the autonomy of the divergent elements, existing and proposed.
The stadium square concentrates the most significant space in its interior, a focus for the rehabilitation of the area. Its centripetal shape symbolizes the convergence of the different programs.
The institutional block builds a qualified border of the park. The existing governmental buildings will be complemented with new pavilions.
The residential group builds borders, occupies voids, densifies the urban scene; it acquires different configurations giving an answer to the various forms of inhabiting.
Publication:
Ideas Urbanas para Santo Domingo
Editor: A. Vélez Catrain